Customer
Founded in 1985, Hengan Group is currently the largest manufacturer of tissue paper and maternal and child hygiene products in China. It was listed on the Hong Kong Stock Exchange on December 8, 1998. On June 7, 2011, Hengan International was included in the Hong Kong Hang Seng Index constituents.
Hengan owns four well-known Chinese trademarks, Anerle, Xinxiangyin, Seven Degrees Space, and Anerle, and its three leading products, sanitary napkins, diapers, and household paper, rank among the top in domestic market share.
The group has 14 production bases in Fujian, Shandong, Hunan and Chongqing.
Project
The Hunan Hengan project is located in Changde, Hunan. The project invested 819 million yuan to build a 36,000-square-meter paper workshop and a 24,000-square-meter storage center. In March and May 2023, two new state-of-the-art paper production lines will be installed. After completing 6 phases of investment, the annual production capacity of base paper will reach 345,000 tons, and the annual processing capacity of finished products will reach 28 million boxes.
In July 2023, Hengan (China) Hubei T31/33 project PM31 paper machine started up smoothly. Yunda supplied stock preparation and approach flow system equipment,including chain conveyor for pulpe bales,high density cleaner, PM double disc refiner, NLS flow screen, broke pulper, etc. The 3600mm width new-moon type tissue machine of this project is supplied by TOSCOTEC, The reliable quality of Yunda stock preparation equipment ensures the smooth runnability of this tissue machine and the high quality of the product.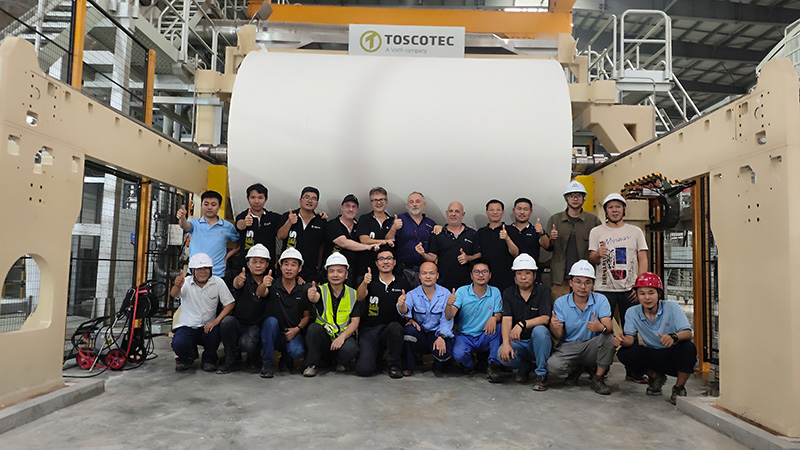 Tissue machines are supplied by TOSCOTEC. Yunda supplied the stock preparation and approach flow system equipment including: Chain Conveyors for pulp bales, High Density Cleaners, PM Double Disc Refiners, NLS Inflow Screens, Broke Pulpers, etc. All equipment was started up successfully at one time under the supervision of Yunda's on-site erection and commissioning service engineer, which was highly recognized and praised by the Production Manager Yang Shikun and the Equipment Manager Hu Zhenglong. Customer expressed their high recognition of Yunda and its equipment.
What is Paper Manufacturing?
Paper manufacturing is the process of converting raw materials, such as wood fiber, recycled fiber, and other materials, into paper products. The process involves a series of mechanical, chemical, and other treatments that transform the raw materials into pulp, which is then formed into continuous sheets of paper.
Tissue paper production line


Tissue paper is a lightweight paper, or a crepe paper, which can be made from recycled paper pulp among other materials. It is mainly defined by its softness and fabric like feel.
The tissue paper manufacturing process only varies slightly from that of other papers.
It goes through the same underlying pulping, pressing and converting processes as regular paper, with minute changes.
Tissue Paper Processing
Pulping
Trees are logged and cut into chips, which are then are ground into fine flakes, which are then soaked and pulled-apart (retted). Paper pulp is generated from wood fibre or recycled materials.
Stirring together these fine retted flakes in a mixer tank with a large quantity of water and other chemicals generates.
The manufacturer adds chemicals such as sodium sulphide, limestone, and others while the wood pulp is still in the mixing tank, to soften, strengthen or colour the paper.
Pressing
The prepared pulp is then poured over fast moving belts made from highly porous materials that are driven over huge drums heated by steam. The pulp is poured uniformly and consistently across the width of the belt/drum. All the water escapes through the pores, leaving just the fibres on the belt in the form of a delicate fabric.
The tissue is then transferred on to a massive heated roller called a Yankee. The heat of the Yankee makes the fabric dry almost instantly.
The tissue paper is then transferred on to a core to form a large diameter roll.
Adjust the draw speed of the roll can let you get a thicker or thinner tissue as per your goal.
The rolls are then put onto the converting machine.
Converting
The tissue is taken and its plies are split and passed through an embossing roller.
Embossing softens the toilet tissue and can be used to create decorative patterns.
The plies are removed and held together with glue. The tissue is then perforated by doctor blades, enabling the sheets to be easily pulled apart.
The tissue can then be made into either flat surfaces or wound around a cardboard tube to create a cylindrical rolls.
Many different roll sizes and sheet counts are produced on the winding machines.
The large roll is fed into a doctoring system and cut by a large rotating doctor blade into individual rolls.
Properties of Tissue Paper
Key properties of tissue paper manufacturers target include absorbency, basis weight, thickness, brightness, specific volume, and aesthetics.
Adjusting these properties makes it useful in various applications including hygiene and packaging.
Uses of Tissue Paper
Tissue papers come in varying thicknesses and textures but are primarily used as hygienic (anti-bacterial) tissues, facial tissue, toilet tissue, paper towels, table napkins and, sometimes, acoustic disrupters, and packing tissue.
Paper machine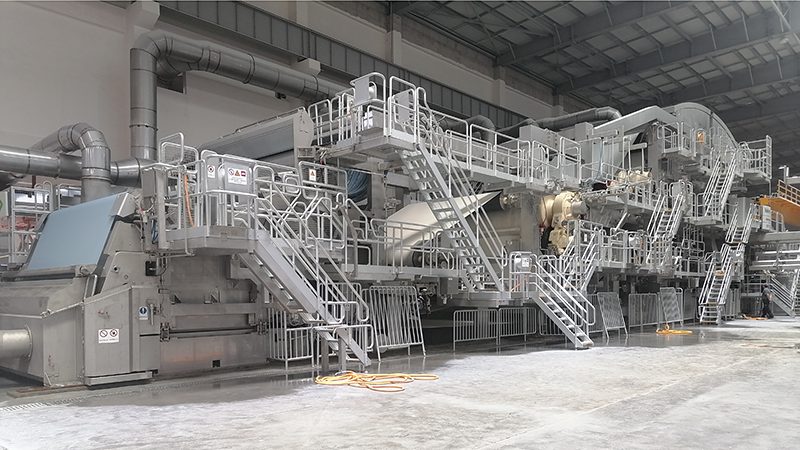 A paper machine can be viewed as a coupling machine consisting of several pieces of equipment. It is usually divided into two main parts: the wet part and the dry part. Wet section includes pulp flow equipment, net section and press section. Cadre includes the drying section, calender and winder.
Customer Heng'an Group Pulping line site