YUNDA Drum Pulper ZDG (A Superior Way Of Pulping)

The drum pulper consists of two groups: the rotating part and the driving system. the rotating part is composed of the mixing section, the pulping section and the screening section. the driving system is composed of the support rolls , the transmission device and the lubrication unit.
Working principle
The waste paper enters the mixing section and pulping section of the drum pulper and gets fully disintegrated by gentle rubbing in the pulping section, and then goes forward to the screening section, where it is diluted by the spraying shower, and the accept stock goes into the bottom vat, waste plastics are washed away and discharged from the reject discharge outlet.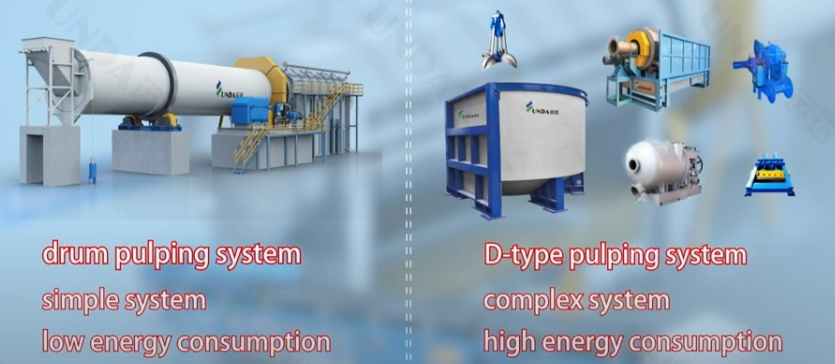 Advantage
Compared with the D-type pulper, the drum pulper has the advantages of easy system, low energy consumption and low maintenance cost.
Gentle defiberizing of furnish with specially shaped internals ;
Lifting plates in staggered arrangement = constant, smooth stock falling and tumbling;
Stock moves slowly towards the screening section due to the drum declination;
No cutting forces, No aggressive shearing;
Minimum breakdown of contaminants;
Maximum retention of fiber physical characteristics;
Lowest power consumption;
Minimum maintenance requirements;
Excellent quality stock;
Enables all grades of recycled furnish;
Continuous operation & trouble free production;
Gentle pulping principle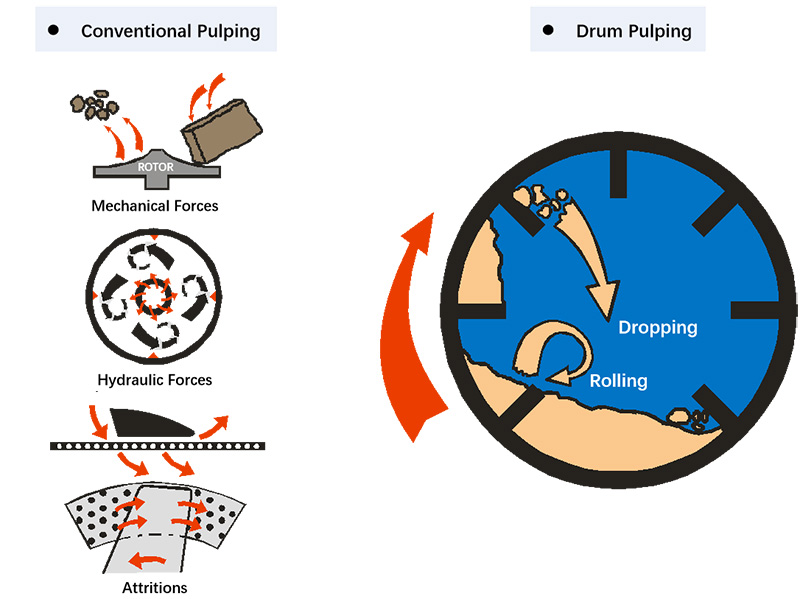 Drum pulping process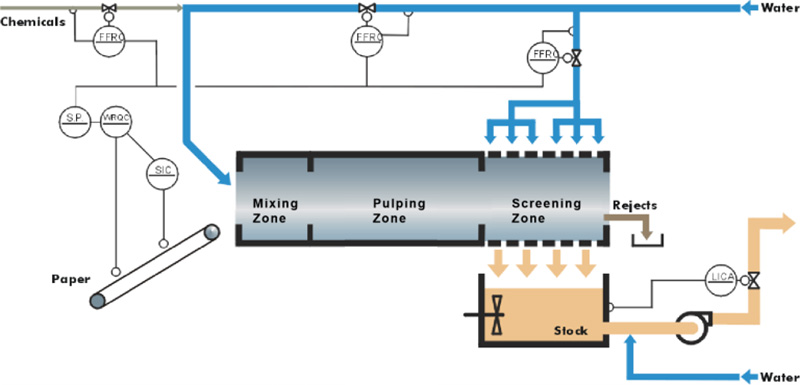 Technical Parameter
| | | | | | | | | |
| --- | --- | --- | --- | --- | --- | --- | --- | --- |
| Model | ZDG250 | ZDG275 | ZDG300 | ZDG325 | ZDG350 | ZDG375 | ZDG400 | ZDG425 |
| Drum Diameter (mm) | 2500 | 2750 | 3000 | 3250 | 3500 | 3750 | 4000 | 4250 |
| Capacity (T/D) | 70-120 | 140-200 | 200-300 | 300-400 | 400-550 | 550-720 | 750-1000 | 1000-1300 |
| ZDGA Type Motor Power (kW) | 110 | 160 | 250 | 315 | 560 | 630 | 800 | 1000 |
| ZDGB Type Motor Power (kW) | 132 | 200 | 315 | 400 | 630 | 800 | 1000 | 1250 |
Shipment of the drum

Project
Annual capacity: 1000,000 tons
Production paper type:paperboard
Raw materials: OCC, LOCC, book paper, office waste paper
Project address: China
Scope of supply: drum pulper system, mid consistency screen system, low consistency cleaner system, net front flow system
Related Products