On July 6, Zhengzhou Industrial and Information Technology Bureau issued 2020 Zhengzhou City Service-oriented Manufacturing Demonstration Enterprise List, in which we can see that ZhengzhouYunda Paper Machinery Co., Ltd. was listed. Among hundreds of candidates, Yunda was listed as one of the elected, means that the transformation and upgrade from production-oriented to service-oriented has made great progress.
Developing serivce-oriented manufacturing is a vital part of national development strategy. Integrative development of manufacture and service is an important path for accelerating transformation and upgrading of China manufacturing. High-end oriented, intelligent, green and service-oriented development guides the road for Yunda.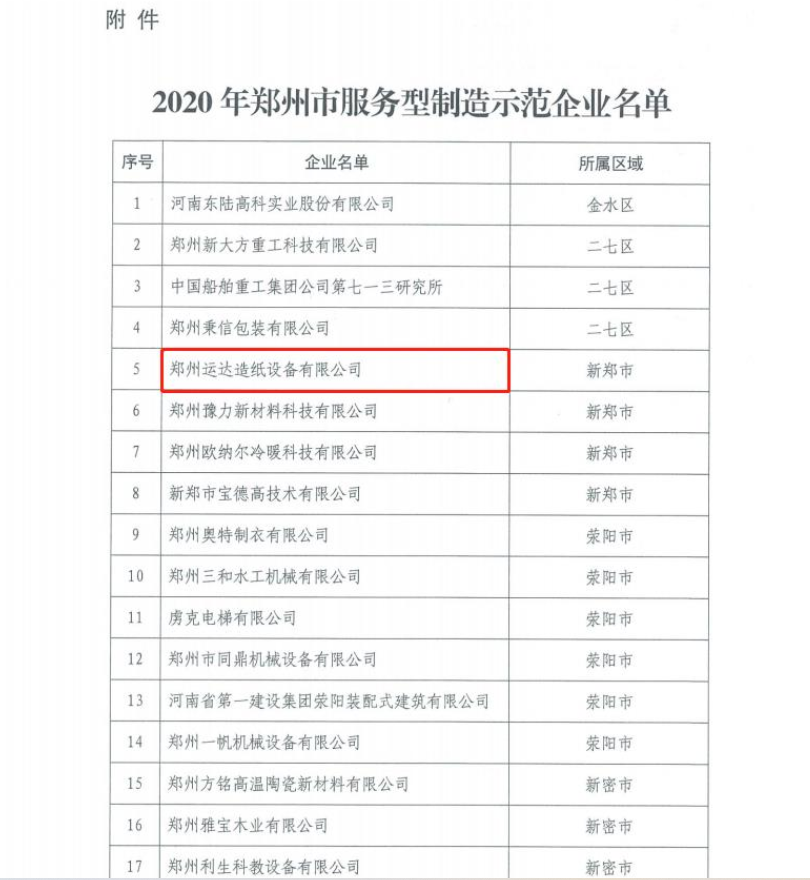 For years, Yunda has continuously implemented the integration of manufacture and service. Till present, Yunda has supplied integrtation services to over 200 large and medium-size enterprise in China. For instance, Yunda has offered engineering plan design, equipment selection, equipment manufacture, installation and commissioning, operation training, post-sale services, etc. "Faithful and professional, serve pulp and paper industry. In the new era, Yunda will accelerate the innovation and transformation of research findings to enhance service-oriented level and contributes more to high quality development of national industry.